Cardiac troponin point-of-care testing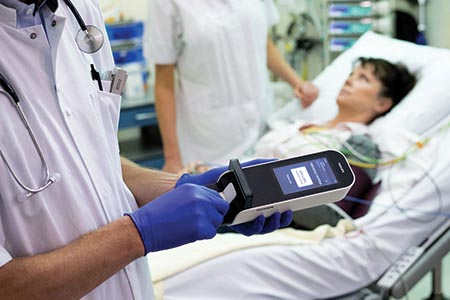 Elkerliek Hospital in The Netherlands and Royal Philips have announced a collaboration to pioneer the use of point-of-care testing (POCT) in the hospital's dedicated cardiac emergency department. As a key part of the collaboration, Philips' CE-marked cardiac troponin I (cTnI) blood test for the rapid diagnosis of heart attack, which is based on the company's Minicare I-20 handheld diagnostics platform, will be used to provide test results within 10 minutes using only a single fingerprick drop of blood.
Cardiac troponin testing in the hospital is currently performed in a central laboratory, and it can take up to an hour before the results are available. However, for high-risk acute coronary syndrome (ACS) patients, fast triage and rapid initiation of treatment are critical to improving patient outcomes and potentially saving lives. The introduction of a rapid diagnostic protocol based on the Philips Minicare cTnI test is expected to reduce the time to diagnosis and time to treatment, reducing crowding in the accident and emergency department by minimising the length of stay.
The new diagnostic protocol, which requires the clinical team to adopt a new way of working, is the direct result of an initiative between the Elkerliek Hospital's Cardiac Care Unit (CCU) and its central hospital laboratory to improve the cardiac diagnostic pathway for those with suspected heart attacks.
Other News