Biomarker test for high-grade prostate cancer could avoid need for biopsy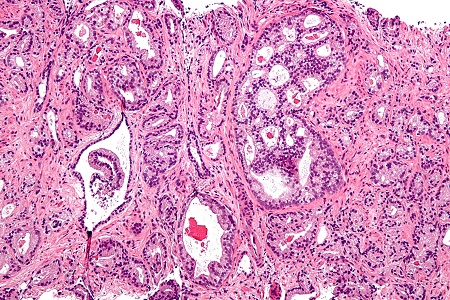 ProteoMediX has announced the results from a retrospective study that showed the correlation of its prostate cancer diagnosis test with cancer aggressiveness in patients scheduled for prostate biopsies. The study findings presented at the 2018 European Association of Urology (EAU) Congress in Copenhagen, Denmark, showed that the test has the potential to avoid a large number of biopsies.
"Correlation with high-grade cancer is an important finding, as it shows the potential to reduce over-diagnosis and over-treatment when using the ProteoMediX test in men scheduled for biopsies," stated study investigator Professor Helmut Klocker (Medical University of Innsbruck).
The prostate-specific antigen(PSA) test is used routinely in prostate cancer diagnosis and often leads to over-diagnosis (false-positive results), especially in men with enlarged prostates. The retrospective study included 483 samples collected from men before a prostate biopsy at the Medical University of Innsbruck, Austria.
The ProteoMediX test showed a high correlation with prostate cancer aggressiveness and at the same time demonstrated that the use of the test could avoid a large number of biopsies. The test was validated through an independent cohort of 474 samples taken from patients undergoing biopsies at the Martini-Klinik, Hamburg, Germany. In accord with the observations made at the Medical University of Innsbruck, the test undertaken in Germany showed a high sensitivity of 90% for high-grade (Gleason Score >6) prostate cancer with a negative predictive value (NPV) of 93%, making it very likely that a case of aggressive cancer will not be missed. In addition, 152 (41%) out of 368 biopsies with no or low-grade cancer could have been avoided using the test.
Other News