Ten years of National Pathology Week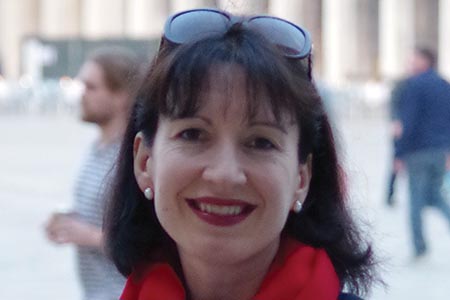 When the first National Pathology Week (NPW) was planned in 2008 the aim was to hold 40 events across the UK. By the end for the week over 320 had been held, and pathologists the world over had caught the public engagement bug. A favourite comment of Dr Suzy Lishman (pictured) from an early participant was that NPW had rekindled their passion for pathology and improved morale in their department – two rather unexpected side-effects. Since then, thousands of events have been held for schools, the public and healthcare professionals, and NPW is firmly established as an annual event.
Ten years ago, The Royal College of Pathologists secured funding from Siemens Healthcare Diagnostics for the first NPW, which covered the salary of a temporary part-time Public Engagement Manager and the cost of printing and promotional materials. Ten years on and public engagement has become a core activity of the College, with a permanent team of staff working year-round on a range of projects. From the beginning, NPW was established to be inclusive and open to everyone working in any professional group in any pathology specialty. Events have been organised by pathology secretaries, medical students and nurses, as well as pathologists and scientists of all grades.
Numerous resources have been developed and updated over the past decade, including event templates, quizzes, handouts and presentations. All can be downloaded from the College website (www.rcpath.org) and adapted to suit any audience. The College has introduced Public Engagement Innovation Grants, awarding funds to support innovative events. Previous College President Professor Peter Furness was so impressed by the high standard of events organised by trainees that he established an annual award, the Furness Science Communication Prize, to recognise an exceptional trainee pathologist or scientist every year.
One of the most popular NPW events is the Living Autopsy (previously called the Virtual Autopsy), which involves demonstrating what an autopsy involves using a live model. It's also an opportunity to talk about all the pathology specialties and how pathologists and healthcare scientists work for the benefit for the living, as well as investigating causes of death. The Living Autopsy has been adapted for different locations and themes, including death of an astronaut, in Sir Isaac Newton's former school, a virtual brain autopsy at Latitude music festival, and a post-mortem of a plague victim in Newcastle Cathedral. The College has recently added a series of videos to its website, with a step-by-step guide to developing and delivering a Living Autopsy.
Following the success of early NPWs, I was contacted by pathologists in other countries asking if they could participate. This led to the College establishing International Pathology Day, which also takes place in November each year. Since this was introduced in 2014, events have been held in over 40 countries, supported by pathology and laboratory science societies around the world. It has also been wonderful to see the success of other pathology public engagement initiatives in the UK, including the hugely successful Healthcare Science Week and Biomedical Science Day.
As NPW celebrated its 10th birthday, public engagement with pathology has never had so much support or such a high profile. I hope that it will continue to go from strength to strength, increasing the understanding of the vital role we play in healthcare and encouraging the next generation of pathologists and scientists to join us.
@ILovePathology
Other News