Large centralised regional solution for digital pathology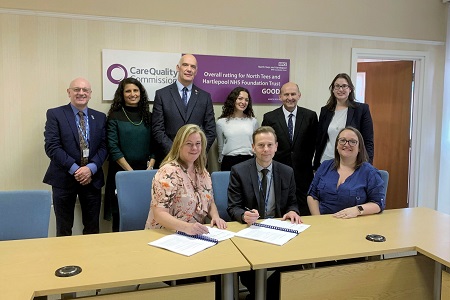 International medical imaging IT and cybersecurity company Sectra is pictured signing a five-year contract with North Tees and Hartlepool NHS Foundation Trust for the delivery of a regional digital pathology solution to the Northern Cancer Alliance. The solution will span the 10 separate trusts of the consortium and aims to improve cancer care workflows through enabling pathologists to instantly access and share images and information between departments and locations.
The solution will support 115 pathologists across the trusts, conducting an average of 300,000 examinations a year. Through Sectra's central solution, they will be able to access all pathology images produced by the consortium and get one consolidated view of a patient record from a single interface.
Digital pathology will give the pathologists functionality beyond the microscope. Without the need for physical glass slides, digital access to current and historical images is enabled from anywhere and at any time. The digital solution provides pathologists with assistance at critical decision points, such as grading or doing more precise measurements. It also enables image analysis, which in turn reduces variation and improves the precision of tasks such as cell counting. The digital access further facilitates second opinions, external reading resources, specialist consultations and regional MDT case review meetings.
The trusts within the regional solution will be using PACS-based reporting and integrate with multiple local laboratory information management systems (LIMS). This could for example facilitate workload balancing across the consortium and equal access to specialists for all patients in the region.
Other News