New Cambridge OGT site officially opened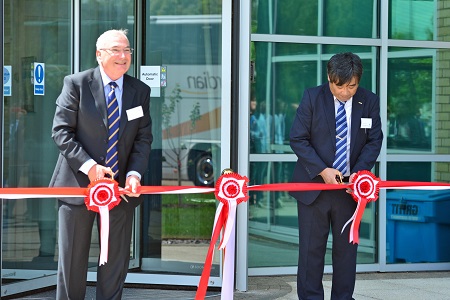 Oxford Gene Technology (OGT) has celebrated the opening of its new facility in Cambridge, UK. The opening ceremony, which took place on 3 June at the company's new premises on the prestigious Cambridge Science Park, was attended by the Department for International Trade (DIT) and local media as well as top-level representatives from OGT and its parent company, Sysmex Corporation. Pictured are John Anson (CEO, OGT) and Kaoru Asano (member of the Managing Board and Senior Executive Officer, Sysmex).
The new facility boasts impressive, state-of-the-art refitted laboratories and is approximately three times the floor space of the previous site. OGT acquired fluorescence in situ hybridisation (FISH) probe manufacturer Cytocell in February 2014 with 30 employees. Since then the company has significantly increased its portfolio, including launching the largest US Food and Drug Administration (FDA)-cleared in vitro diagnostic (IVD) FISH probe range for acute myeloid leukaemia (AML) and myelodysplastic syndromes (MDS) on the market.
The number of employees based in Cambridge has increased to 53 and continues to grow, driven by strong double-digit sales growth. As a result, Sysmex has demonstrated its confidence in OGT and the Cytocell brand by expanding operations with the opening of this new facility to cope with the increased volume of product manufacture and shipment. In addition, OGT plans to create a training and demonstration facility where customers can benefit from the company's renowned FISH expertise.
Other News