Increasing efficiency of coronavirus sampling kit production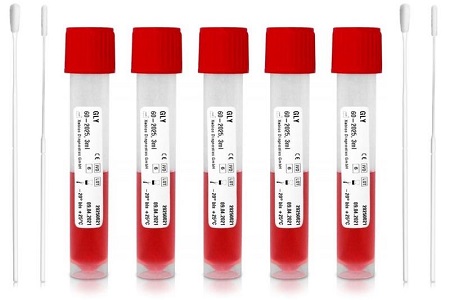 Xebios Diagnostics manufactures high-quality, ready-to-use culture media for microbiological diagnostic applications, and is using DOSE IT to aliquot viral transport medium (VTM) into sterile screw-capped tubes to meet market demand.
There has been an unprecedented increase in demand for diagnostic testing to identify cases and track the coronavirus spread, requiring a steady supply of products that are needed for safe collection, transfer and preservation of viral specimens.
INTEGRA's DOSE IT peristaltic pump provides the perfect solution for preparing VTM tubes for COVID-19 testing, as it can quickly and efficiently aliquot medium into individual, sterile screw-capped tubes. Its enclosed liquid system, easily sterilised tubing, and lack of valves or seals minimises the risk of contamination to the product or the pump itself.
Christoph Mentzel (CEO, Xebios Diagnostics) explained: "We're seeing high demand for test kits from a number of diagnostic laboratories, as well as from the Netherlands government. We are taking on a number of new employees to help with production, and needed a system that was robust, while also being extremely intuitive and easy to use to condense training time.
"The DOSE IT pumps met all our requirements, and we are using them to fill more than 500,000 test tubes a week at our production sites in Düsseldorf and Groningen (Netherlands). This flexible pump has allowed us to ramp up our production capacity to supply our customers with VTM tubes and kits for SARS-CoV-2 testing, and is really helping with our response to this virus."
Visit the INTEGRA Biosciences website to learn more.
Other News