Branching out: DNA advances in degenerative disease treatments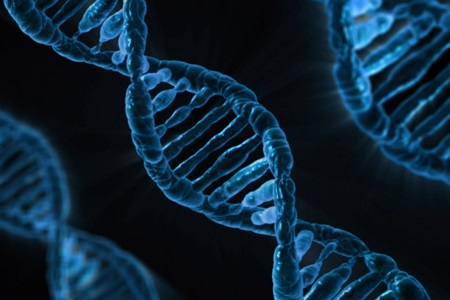 New research on the structure and dynamics of a branched form of DNA called a three-way junction could lead to more effectively targeted treatments for degenerative disorders like Huntington's disease.
In a new paper, published in the journal Nature Communications, chemists from the University of Glasgow show for the first time how three-way DNA junctions undergo unexpected rearrangements in their structure.

Their findings could lead to an improved understanding of the processes that underlie a group of degenerative disorders known as repeat expansion diseases (REDs). That could help drug developers make better-targeted treatments to prevent or slow the progression of these types of genetic disease.

The iconic DNA double helix is formed from two strands, each made from four organic 'building blocks' – adenine (A), thymine (T), guanine (G), and cytosine (C) – known as nucleotides. If the DNA sequence contains repeats of the same nucleotides, there is the potential to form a structure in which the repeat sequence extrudes from the double helix, pairs with itself and forms a new double-stranded section of DNA known as a slip-out or hairpin. The resulting branched structure is known as a three-way junction. These structures are implicated in the progression of REDs, but the processes by which they are formed and how they behave are not well understood.

The Glasgow team set out to learn more about how these three-way junctions work by examining DNA with slip-outs with two different types of nucleotide repeats composed of bases of CAG or CTG. These trinucleotide repeats are known to cause at least 17 different types of RED, including Huntington's disease.

They were able to monitor individual three-way junctions in real time using single-molecule fluorescence microscopy by tagging DNA with two different fluorescent labels and taking advantage of a process known as Förster resonance energy transfer (FRET), to measure the distance between the two labels. They studied three-way DNA structures containing slip-outs of between two and 30 repeats of either CAG or CTG, revealing new details about their underlying movements.

They found new evidence that the behaviour of the junction differed depending on whether the nucleotide repeats were confined within the slip-out, or continued along the double-stranded DNA to which the slip-out was connected.
The team's paper, entitled 'Conformational and migrational dynamics of slipped-strand DNA three-way junctions containing trinucleotide repeats', is published in Nature Communications, and can be accessed here.
Other News
Featured Supplier

Stago's objective is to improve the health of as many people as possible by offering powerful biotechnology solutions for blood-based diagnostics. 
We take a lean, confidence-building approach to digital connectivity – from our latest Coag.One middleware to our cyber-secure Connect.One capability for enhanced engineering and remote...