Next-generation laboratory business management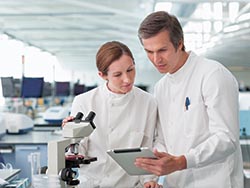 InterSystems, the developer of the TrakCare unified healthcare information system, will preview its laboratory business management system (LBMS) at the IBMS Congress (Stand F28) in Birmingham at the end of the month.
"Today's laboratory information management systems fall short of what laboratories need. We are raising the bar by introducing the world's first LBMS, which will help customers transform from a reactive testing and results service to a proactive healthcare partner," said Martin Wilkinson, head of InterSystems' solutions for the laboratory market.
An LBMS will enable laboratories to work differently. Not only will they communicate results electronically, but will also identify their derivation, including workflows, equipment and personnel involved, regardless of where they are located.
Connected care models and shared electronic health records will also see laboratory professionals become more directly involved in patient care. With a continuous view of the patient's condition, laboratory professionals will extend their services into hospital wards and other settings.
www.InterSystems.co.uk/BeyondLIMS
Other News