Electrodeionisation water purification system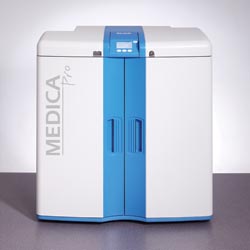 Elga Process Water has introduced the Medica Pro EDI, a new electrodeionisation (EDI) water purification system for clinical diagnostic market.
The Medica Pro EDI has been developed to produce water of a consistently high purity at economical running costs for a wide range of applications in the modern clinical laboratory. Elga's Pulse technology combined with extended intervals between sanitisation reduces maintenance time and makes the Medica Pro EDI one of the most productive and environmentally friendly systems in its class.
Elga's Pulse technology integrates EDI, which combines ion exchange resins and ion-selective membranes with direct current to remove ionised impurities from water. The Medica Pro EDI has been designed to fit into any laboratory environment and is easy to operate and maintain. It can be mounted on or under a bench for convenient access and incorporates Elga's wrap-around reservoir to save valuable space.
www.shop.elgaprocesswater.co.uk
Other News