Blood tube for genomic DNA testing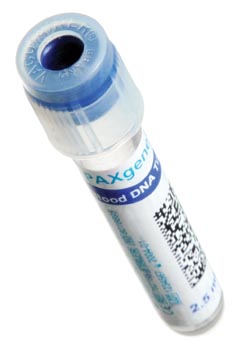 Becton Dickinson (BD) has announced the commercial availability of the CE-marked PAXgene blood DNA tube in Europe. The tube is the first blood collection tube designed specifically for in vitro diagnostic (IVD) genomic DNA testing, and was developed by PreAnalytiX a joint venture between BD and Qiagen.
DNA testing has advanced significantly since the publication of the first draft of the human genome in 2000. While swab and saliva samples are popular, blood remains the sample of choice for clinical diagnostic testing and identification of new biomarkers for disease research.
To improve the collection of DNA in these applications, the PAXgene blood DNA tube performance has been analysed comprehensively. "The validated performance data provided to clinical scientists for the PAXgene blood DNA tube should reduce the chances of preanalytical error, ensuring the best quality sample for accurate IVD test performance and for blood DNA storage related to the identification of new biomarkers of disease or drug actions," comments Frank Augello, PreAnalytiX general manager.
The PAXgene blood DNA tube is a 2.5 mL blood collection tube that stabilises genomic DNA with validated time and temperature parameters. The tube incorporates workflow efficiency features including a 2D barcode on the label and a tube closure that clearly identifies the DNA tube, which is a constituent of a complete molecular diagnostic portfolio of PreAnalytiX products comprising DNA isolation kits, automation and analysis equipment.
www.bd.com
Other News