High-capacity instruments aid histopathology in Rwanda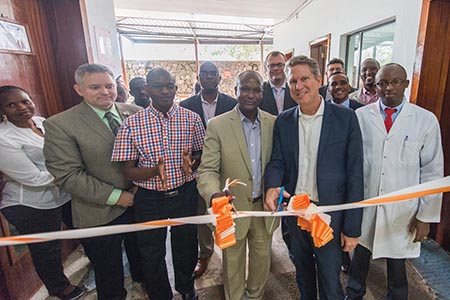 The National Cancer Institute (NCI), the National Institutes of Health (NIH), American Society for Clinical Pathology (ASCP), Sakura Finetek and other partners have opened a state-of-the-art histopathology laboratory in Butaro, Rwanda, providing patients in resource-limited areas of the country with access to rapid cancer diagnostics and appropriate care and treatment.
"The concept being put into practice is unique," said Dr Dan A Milner Jr, ASCP's Chief Medical Officer. "Creating an entire system, from selecting sites for laboratories, installing high-throughput pathology equipment, using whole-slide imaging, and creating teams of 15 pathologists focused on that site to review the high-quality slides for a one-day diagnosis, is unique. It is a focused effort to create systems for a given large region, at a scale that has never been done before."
To ensure the sustainability of the project, in-house employees are extensively trained on use and daily maintenance of the different instruments, supporting the 'one-day diagnose' ambition. Sakura Finetek has donated high-capacity histopathology instruments to cover the entire routine pathology process.
The new laboratory is located at the Butaro Centre of Excellence in Cancer Care at the Butaro District Hospital in northern Rwanda. The coalition is using automated instruments for routine pathology and a cloud-based system that allows physicians in Rwanda to upload complete whole-slide images of patient tissue and receive diagnostic results from pathologists in the United States within 24–72 hours.
Other News