Hot Topics in Microbiology – Join the Grapevine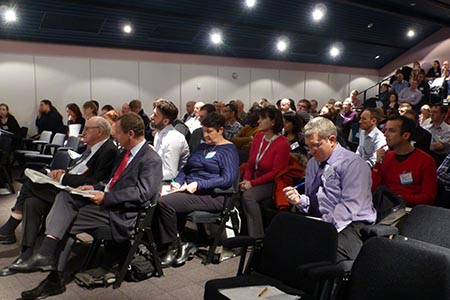 The British Society for Microbial Technology (BSMT) is offering an excellent programme for its annual scientific conference, to be held on Friday, 14 May 2017 in London. This year, the relevance of microbiology to the clinician and life-threatening clinical infections will be explored in Hot Topics in Microbiology – Join the Grapevine.
The programme is aimed at bench microbiologists to provide not only up-to-date information about organisms and techniques, especially where there is information about new technology, but also to give some clinical background, context and understanding to the laboratory work undertaken on a daily basis. The conference is relevant for senior biomedical and clinical scientists, other scientists and medic al microbiologists, and this year it is also particularly appropriate for infection control specialists.
The morning presentations include Professor Paul Dark talking about how to deliver precision medicine in sepsis; Professor William Wade discusses microbiology's obsession with separating bacteria from their friends, with a presentation entitled Cultivating the Uncultured; Dr Kate Templeton will provide an update on community-acquired pneumonia, and Dr Pieter-Jan Ceyssens from Belgium will cover the application of MALDI-TOF to mycobacterial species identification and drug resistance monitoring.
In the afternoon, Dr Silke Schelenz will talk about the identification and control of multi-resistant Candida auris infections; Dr Katie Hopkins will provide an update on laboratory detection of carbapenem-resistant Enterobacteriaceae (CBE), and finally Dr Kathy Bamford will discuss how we cope clinically with CBE. The day will be chaired by Professor Eric Bolton and Professor Brian Duerden.
The BSMT committee has convened a scientific conference each year for the past 32 years, for many years the venue being Public Health England, Colindale. On alternate years, there is also a conference at a venue away from London. The next autumn conference (1 Dec 2017) will be in Liverpool on the subject of paediatric microbiology. For 18 May 2018, BSMT aims to develop a provocative programme by attempting to tease out how molecular techniques affect turnaround times, and what conventional microbiology can still offer, the working title being Rapid Diagnostics – Time is Relative. More information will be placed on the BSMT website as it becomes available.
Other News