Agar Scientific acquires London Resin Company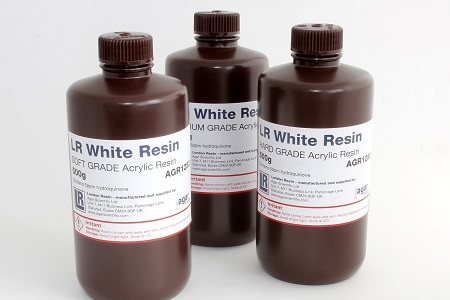 Agar Scientific has announced the successful purchase of the EM resin manufacturer London Resin Company, which has developed and supplied acrylic resins for microscopists since 1980, and this acquisition will ensure continued manufacture and supply of the complete product range.
London Resin's specially formulated, high-quality microscopy resins combine low viscosity, low toxicity and ease of use, and are considered the industry standard for many applications. Production of the LR White, LR Gold and Histocryl resins has now transferred to newly refurbished chemistry laboratories at Agar Scientific's Stansted premises – using exactly the same formulations and manufacturing processes – to minimise the impact on customers and ensure supply chain security.
Darren Likely, Managing Director of Agar Scientific, commented: "We are delighted to have successfully completed this acquisition, which will ensure uninterrupted supply of the complete range of high-quality London Resins. We have purpose-built a laboratory to meet current and future demand for these products, as well as expanding our chemistry capabilities to allow further developments in the future."
Dr Brian Causton, founder of London Resin, commented: "I'm very happy that Agar Scientific is taking on the London Resin range. The company has a great team, and I have full confidence that production of these high-quality resins is safe in their hands. In the 40 years since I founded London Resin, supporting customers with their unique requirements has always been the best part of the job, and I will continue to advise Agar and answer user questions directly, ensuring a smooth transfer of knowledge."
www.agarscientific.com/londonresin
Other News