Innovations at world's largest diagnostics conference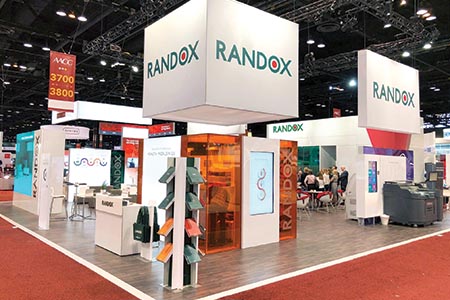 Global diagnostics firm Randox will showcase its unique life science capabilities in areas including stroke differentiation and quality control for a range of infectious diseases, at the world's largest laboratory medicine conference – the AACC Annual Scientific Meeting & Clinical Lab Expo – in California. The 71st event from the American Association for Clinical Chemistry (AACC) is set to highlight the best in the industry on the world stage once again as clinicians, companies and customers from all over the world flock to the Californian Anaheim Convention Centre.
"We look forward to AACC every year as we exhibit our constantly-evolving revolutionary technologies," said Randox Managing Director Dr Peter FitzGerald. "This year we will once again highlight Randox's ground-breaking diagnostic products and services which help to save and extend lives across the world."
Launching at this year's AACC event are a number of exciting new innovations from Randox, including a new offering of Infectious Disease Serology Internal Quality Controls which includes quality control material vital for the testing of HIV, hepatitis A, congenital infections and even Lyme disease.
Dr FitzGerald continued: "We are delighted to bring our Infectious Disease Serology Internal Quality Control portfolio to market for the first time. There are approximately one million people in the USA living with HIV, and around 15% are unaware they are infected. The impact of all infectious diseases, including HIV, is increasing and, therefore, laboratories play an increasingly larger role in providing accurate results. This is a key component in controlling the spread of infection."
At AACC, Randox will also be unveiling its brand new Randox Stroke Biochip, an advancement of its Biochip Array Technology in which an investment of £305 million has been invested to date. This disruptive technology is set to enhance computed tomography (CT) scanning technology to facilitate accurate classification of stroke patients and improve patient care pathways.
Dr FitzGerald added: "We are pleased to highlight our brand new Randox Stroke Biochip which is set to revolutionise stroke differentiation when time is of the essence. There is great tragedy in the fact that the majority of stroke damage can be minimised if intervention is delivered on time. Our stroke test is the vital next step – assisting clinicians in making a rapid diagnosis and differentiation between haemorrhagic and ischaemic stroke, so their patients get the right treatment at the right time."
Other News