Medicine: The Wellcome Galleries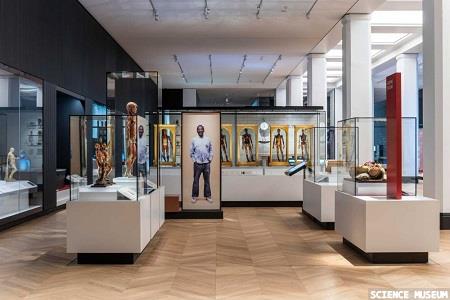 Until recently, visitors to the Science Museum in London's South Kensington would have struggled to find very much about the science of medicine. This all changed on 16 November 2019 when Medicine: The Wellcome Galleries opened to the public. The culmination of eight years of planning and development, they are the world's largest medicine galleries, occupying 3000 square metres, an area large enough to take 1500 hospital beds.
The exhibition is divided into five themed galleries containing artefacts drawn from both the Wellcome and Science Museum collections, together with original art work, and includes a section on the clinical laboratory. They show the history, cultural diversity and social impact of how we have striven since earliest times to understand and improve our physical and mental health.
The Medicine and Bodies gallery illustrates our quest to better understand how the body works and the impact of this knowledge on medicine. Exploring Medicine celebrates the scale and diversity of medicine, illustrating this with an eclectic mix of over 1000 objects.
In Medicine and Treatments: The GSK Gallery the core purpose of medicine is explored and illustrates the range of treatments that can save, alter and extend lives. Medicine and Communities examines the impact of infectious diseases, the health challenges of urbanisation and how our behaviour affects our physical and mental health. The trust we place in medicine, cultural practices and religious items in explored in Faith, Hope and Fear.
On show are over 3000 objects ranging from two-hundred-year-old wax anatomical models, an early stethoscope, the world's first MRI scanner, an artistic arrangement of gall and kidney stones, a padded cell, a microscope owned by Pasteur, a scale model of a 1930s hospital, and a 'merman'. Not to be missed is Gibson's Victorian Pharmacy, brought to life through an immersive digital experience.
There are of course plenty of buttons to press and illustrative interactive displays to try. Many of the films are British Sign Language interpreted and large print books and an audio description app has been developed to aid visually impaired and blind visitors.
This is an exhibition in which science, art, anthropology and history come together and is one that may need more than one visit to fully explore, as on each visit something new will be discovered or understood more clearly.
www.sciencemuseum.org.uk/medicine
Other News