On the alert for coronavirus: the role of biomedical science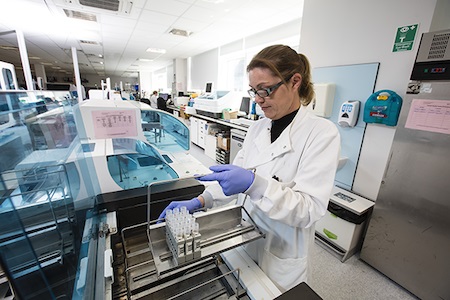 Public Health England has issued guidelines for hospital laboratories in case coronavirus infection arrives in the UK. Public fears are growing, but biomedical scientists who specialise in viruses and viral diseases are prepared should cases reach their hospitals.
Pathology in Practice advisory panel member Dr Sarah Pitt, a virology specialist, said: "While the outbreak of the new coronavirus is to be taken seriously, it's not time to panic. Novel coronaviruses which can be transmitted between humans in noticeable numbers arise every few years."
In 2002–03, we saw the outbreak of severe acute respiratory syndrome (SARS), caused by a coronavirus. Over 8000 people were confirmed as having been infected with the virus. Most cases were reported from China and Hong Kong where at least 700 people died.
"The case fatality rate was 9.6%. While this seems concerning, it is worth remembering that for Ebola the case fatality rate is around 50% overall," Sarah continued.
"While the virus is being transmitted from person to person quite easily, it is important to remember that, so far, all the cases identified outside of China have been in people who have travelled to other countries from Wuhan. In other words, we know where the infection was acquired.
"The worldwide alert means that people with the infection can be managed and treated rapidly, so that the chances of the infection spreading can be minimised. The current concern is that a lot of people are moving across China and around the world to be with family and friends to celebrate Chinese New Year," Sarah explained.
She pointed out that it can take up to two weeks before symptoms develop, but an individual may be infectious during that time. This means that taking the temperature of people arriving on flights from places where the coronavirus is circulating is unlikely to be a fool proof way of finding everyone who is incubating the virus.
"If WHO does declare a public health emergency, a key reason for that will be to raise awareness among public health, laboratory and medical professionals in order to try and limit the spread of the virus. The risk to the general public in Europe is currently low, but biomedical scientists working in virology will be monitoring the situation very closely," Sarah concluded.
In response to any potential threat of the virus spreading in the UK, Public Health England has issued guidance for all UK clinical diagnostic laboratories including how to handle samples, laboratory investigations and requirements for monitoring the infection.
If it is suspected that a patient might have the coronavirus swabs are taken which are then analysed by biomedical scientists in a hospital laboratory. They send their reports to the doctor to make the diagnosis and recommend any treatment required.
Other News
Featured Supplier
Haier Biomedical was founded in 1998 to focus on design, manufacturing and sales of reliable and durable products for clinicians and life scientists around the world. Using the concept of the Internet of Things (IoT), Haier Biomedical has become a leading provider of comprehensive solutions for many biotechnological challenges.
Haier...
Upcoming Events
International Convention Centre, Birmingham
14-17 March 2022
Access the latest issue of Pathology In Practice on your mobile device together with an archive of back issues.
Download the FREE Pathology In Practice app from your device's App store