Winter multiplex virus detection kit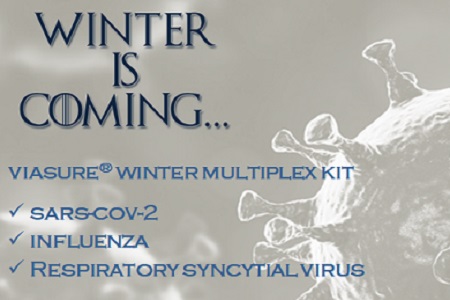 Pro-Lab Diagnostics has announced that final-stage clinical trials are underway on the VIASURE Winter Multiplex CFR kit, which is expected to achieve CE certification by the end of August. Preliminary data show excellent performance characteristics.
This kit is designed for the simultaneous identification of SARS-CoV-2, influenza A/B and respiratory syncytial virus (RSV) in respiratory samples, and will provide results in <80 minutes and offers users a range of important features, as follows:
Room temperature storage.
Lyophilised ready-to-use format; just add buffer and extracted sample.
Two-year shelf life.
Ability to cut strips or pool mastermix to minimise waste.
Validated with almost all extraction systems and cyclers, as well as liquid-handling platforms for high-throughput automation.
The VIASURE Winter Multiplex CFR kit will be an excellent addition to the extensive range of CE-marked VIASURE kits available from Pro-Lab Diagnostics, which is part of an extensive network of distributors in more than 120 countries across five continents for CerTest Biotech, an independent biotechnology company dedicated to the development and manufacturing of IVD diagnostic products.
Other News