Colour validation tool for digital pathology scanning devices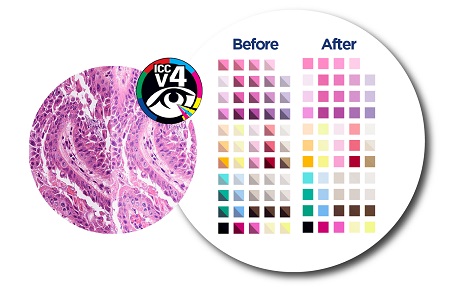 FFEI, a global developer of award-winning digital imaging solutions, has launched the Sierra Validate & Standardise (VS) Analyser, the latest product available within the patented Sierra colour calibration technology portfolio.
The first of its kind available on the market, the Sierra VS-Analyser enables digital pathologists, toxicologic specialists, QA technicians and software developers to make informed decisions on the digital pathology equipment and related workflow utilised.
For organisations and professionals in the fields of digital pathology and pharmaceutical development, adhering to process control for quality and regulatory purposes is paramount. They are increasingly reliant on whole slide imaging (WSI) devices for accurate diagnosis and multi-location drug toxicologic pathology.
With such a wide range of scanning devices on the market, one of the most common issues users need to address is the variation in colour that different devices can create. Often viewed as a 'blackbox', WSI devices have many aspects which can affect their ability to output images that represent 'ground-truth colour'. Having the ability to measure and understand these characteristics becomes essential when good process control is needed.
The Sierra VS-Analyser package consists of a validation and analysis software tool that accompanies a Sierra Calibration Slide, providing a ground-truth pathology colour reference with tissue scanning characteristics. The analysis tool validates the colour reproducibility of a digital pathology scanner for a wide range of common and special stains, and reveals the degree of standardisation across a portfolio of scanning devices. This enables a full appreciation of any variances from ground-truth histological colour that are inherited by current non-standardised tissue images.
Other News
Featured Supplier

Stago's objective is to improve the health of as many people as possible by offering powerful biotechnology solutions for blood-based diagnostics. 
We take a lean, confidence-building approach to digital connectivity – from our latest Coag.One middleware to our cyber-secure Connect.One capability for enhanced engineering and remote...