Rapid molecular confirmation of infectious disease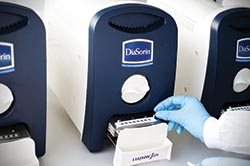 DiaSorin has strengthened its range of infectious disease diagnostic assays for maternal and neonatal health with the launch of Iam HSV for use with the DiaSorin Liaison Iam analyser.
The launch of this new molecular assay provides rapid and reliable differential detection of herpes simplex virus types 1 and 2 (HSV-1 and HSV-2) in human cerebrospinal fluid (CSF), vesicle swabs, plasma and whole blood. Together with Iam VZV for the detection of clinically relevant subtypes of varicella zoster virus (VZV), these assays allow the rapid and reliable detection of alphaherpesvirus infections in pregnant women and neonates.
Nucleic acid tests are the methods of choice for the diagnosis and characterisation of HSV infection, following baseline serology, offering greater sensitivity than viral culture. In addition, the ability to differentiate between HSV types can provide important prognostic information, particularly in the diagnosis of genital herpes. Active maternal HSV infection can be diagnosed from swab specimens while neonatal infection is commonly diagnosed from CSF and whole blood.
www.diasorin.com
Other News