Safe, easy and compliant specimen transport system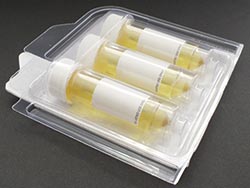 SpeciSafe secondary packaging containers provide a safe, convenient and economical solution for compliant mailing of biohazardous and clinical specimens. The extensive SpeciSaferange includes solutions for screw-cap microtubes, serum vials, vacuum blood collection tubes, cryovials, Bijoucontainers, swabs/transport tubes, and is now extended toinclude a pack to seal threeuniversal containers in addition tothe original single universal pack.
The SpeciSafe packs provide a shock-resistant protectivecasing for primary containers, ensuring compliance to UN3373 standards when used with 95-kPa vials. The simple user-friendly one-piece package is quick and intuitive to use. Itincorporates an ultra-absorbent gel block lining to soakup and retain any vial leakage, ensuring complete protection.
The clear plastic window means sample details and labels arevisible and leakage can be detected prior to opening, soappropriate precautions can be taken. The compliant flatpackdesign also reduces costs by minimising postage charges.?SpeciSafe is available as a complete 'turnkey' package including UN3373-labelled polyethylene and Mail Tuff paddedmailing envelopes. These can even be customised and labelled with, for example, logo, address and Royal Mail business replyreference.
www.alphalabs.co.uk/specisafe

Other News