Reference standards for immunohistochemistry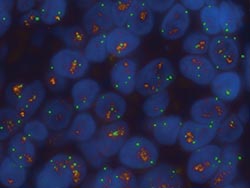 Horizon Discovery Group, theinternational life science company supplying research tools and services that power genomics research and the development of personalised medicines, has introduced a range of genetically defined, highly characterised HDx reference standards for immunohistochemistry (IHC) assays, developed by the company's diagnostics division.
The introduction of IHC HDx reference standards provides histopathologylaboratories with a consistent and reproducible source of reference material forthe development and quality control of IHC assays. The independent externalcontrols contain precisely defined protein expression levels presented on one slide, providing the ability to determine the sensitivity of assays. These standards are unique in having undergone a high level ofcharacterisation at a molecular and protein level, including quantitative digital pathology (QDP), to quantify the intensity of staining.The use of independent external controls enables consistency, reproducibility and accuracy to be maintained and monitored across laboratory workflow.
The new IHC HDx reference standards are presented as formalin-fixed, paraffin wax-embedded (FFPE) cell lines on slides arranged for particular target tumour types. Alongside everypositive core there is a negative protein-expressing cell line core toprovide an additional level of confidence. The range, which is fluorescence in situ hybridisation (FISH) compatible,currently consists of biomarkers for the clinical relevant mutations EML4-ALK, ROS1, MET,EGFR and BRAF V600E.
www.horizondx.com/IHC

Other News