Detection of faint bands on large blots and gels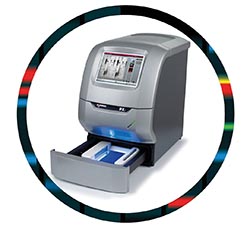 Syngene, a manufacturer of image analysis solutions, has launched the new PXi Access range of compact, multi-application imaging systems. The easy-to-use PXi Access systems offer major advances in film detection and can rapidly generate high-quality images of virtually all types of large blots and gels.
The new compact PXi 6 or 9 Access systems come complete with high-performance cameras capable of imaging a wide range of blot and gel types and sizes. The camera in each PXi Access features superb optics, which means users can set up quickly and detect even the faintest amounts of DNA or protein with much greater sensitivity than possible with film.
PXi Access systems can image stain-free gels and blots or those stained with any commercial chemiluminescence, fluorescence, visible or infrared (IR) dyes. For imaging chemiluminescence blots, the PXi Access uses a wide dynamic range to optimise exposure for each protein, accurately quantifying abundant and poorly expressed proteins, making this a much simpler method than using film for producing Western blot results.
Featuring a touchscreen controlled by GeneSys software, PXi Access Touch offers an intuitive user experience that makes capturing images simple. In just one click, users can achieve publication-quality images of blots and gels (up to 21 x 17 cm) with a PXi 6 and PXi 9 Access.
www.syngene.co.uk/pxi-pxi-touch
Other News