Microcentrifuges with increased speed and capacity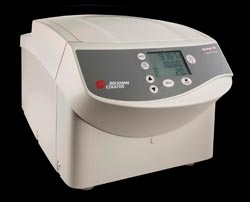 Microfuge 20 and 20R microcentrifuges from Beckman Coulter Life Sciences are designed to meet the specific requirements of a wide range of research applications, and are efficient and easy to use. Paired with Microfuge-series rotors, the compact instruments provide flexibility and reliable, precise performance while having a small footprint.
Processes are performed seamlessly, and include nucleic acid and protein preparation; pelleting, extractions, purifications, concentrations, phase separations and receptor binding; and rapid sedimentation of protein precipitates, particulates and cell debris. Entry and recall of up to 10 user-defined programs is facilitated by an easy-to-use interface and saves set-up time for common protocols.
Samples can be processed at speeds up to 15,000 rpm (20,627 xg) in the Microfuge 20 and in the 20R, which is a refrigerated version with a temperature range of –10 to 40°C. Fixed-angle rotors are made of polypropylene or aluminium and offer capacities of 24 or 36 microcentrifuge tubes or four polymerase chain reaction (PCR) tube strips.
Together with the previously released Microfuge 16, the Microfuge series provides strong quality and performance features for a variety of research requirements.
www.beckmancoulter.com
Other News