Awards recognise smart microscope design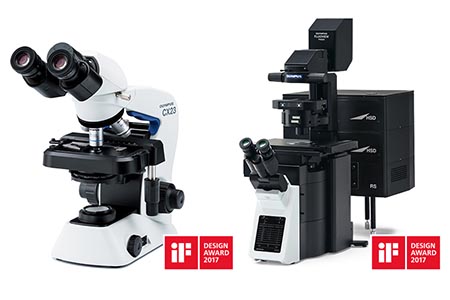 Globally recognised as a symbol of design excellence, the iF design awards celebrate the best in user-focused, ergonomic and efficient design. With over 5000 submissions from 70 countries, Olympus Scientific Solutions has received two of these prestigious awards for its CX23 upright microscope and FLUOVIEW FV3000 confocal laser scanning microscope.
Focused on improving workflows for educational and routine microscopy, the CX23 features a compact design and updates to improve portability, usability and security. The low weight and stable metal frame make it a robust and cost-effective choice for use in the field as well as for use in an educational setting.
The fast and accurate FLUOVIEW FV3000 confocal microscope for detailed live-cell and tissue imaging features exceptional resolution, sensitivity and speed. Its design featuring an intuitive software interface makes some of the most difficult challenges in modern science easy, enabling even novice users to generate high-quality data and images.
Recognition of the FV3000 and CX23 underlines the importance Olympus places on design excellence across its entire range of life science microscopes.
Other News