Expanding the role of routine flow cytometry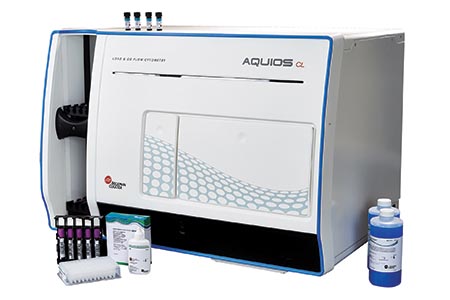 Beckman Coulter Life Sciences has expanded the workflow capabilities of its AQUIOS CL flow cytometer with the addition of the AQUIOS Designer Software, developed specifically to handle user-defined tests in the routine laboratory.
The AQUIOS Designer Software allows for the creation of customer-defined applications to be run on an instrument that combines sample preparation and flow cytometry analysis in one platform (AQUIOS Load & Go technology). Until recently, this feature combination was only available for predefined applications such as CD4 analysis and basic immunophenotyping.
With traditional flow cytometry, sample preparation and analysis requires a two-step approach carried out on different instruments. Even with semi-automated processes this would slow down overall productivity and cause bottlenecks. It also limited the role of flow cytometry technology, which requires 24/7, streamlined workflow and a consistent turnaround time (TAT).
Many laboratories now create their own reagent cocktails for routine applications to accommodate specific marker combinations. Dr Mario Koksch (Beckman Coulter Cytometry Business Unit) explained: "The addition of AQUIOS Designer Software fundamentally changes the way flow cytometry technology performs within the routine laboratory. It reduces the routine, repetitive task of having to manually mix reagent combinations. Far greater workloads can be handled – quickly and efficiently, without bottlenecks."
The optional AQUIOS Designer Software provides an intuitive and user-friendly interface with powerful features to set up user-defined protocols, acquisition templates, panels, compensation settings, and the parameters needed for statistical and quality control compliance. All features can easily be accessed via pull-down menus or slider bars.
Other News