Quick and easy chemiluminescent blot imaging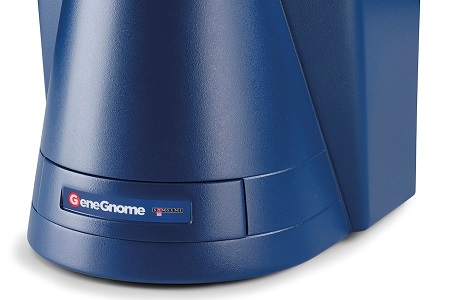 Syngene has introduced its new GeneGnome XRQ, a dedicated chemiluminescence imaging system designed to image chemiluminescent Western blots rapidly and accurately. The new blue GeneGnome XRQ houses a high-quality F/0.95 fixed focus, cooled camera with on chip integration and GeneSys software, all packed into a light-tight darkroom.
Based on the optimised short 'camera to sample' distance technology of the award-winning GeneGnome, the GeneGnome XRQ saves user time because they simply load a blot into the system's slide-out drawer and capture chemiluminescent images without using expensive X-ray film.
GeneSys software can be set up for single- or multi-image capture with different exposure times simultaneously, ensuring users always generate images that have increased dynamic range compared to film, to detect and quantify proteins accurately, even when bands are faint. The software also makes it easy to add visible markers by automatically overlaying the chemiluminescent image with the white light marker image. These features make imaging chemiluminescent Western bots a simple task and significantly accelerate the imaging workflow.
The GeneGnome XRQ includes long-life white LED EPI lighting for viewing visible markers on the blot and requires little bench space. The system also connects easily to a PC and printer (if required), for researchers to calculate molecular weight and protein quantity automatically using GeneTools, Syngene's image analysis software, as well as allowing storage or printing of high-resolution and publication quality images.
Other News