Comprehensive range of haemostasis solutions launched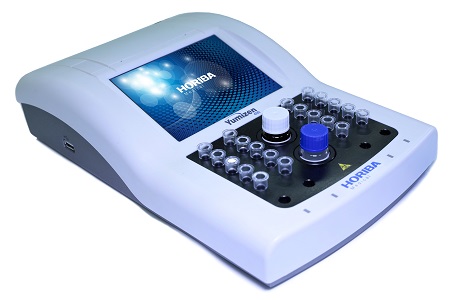 Horiba UK Medical has launched its new Yumizen G range of instruments and reagents. Marking a milestone in the company's product development programme, the Yumizen G range extends its haematology portfolio into the complementary field of haemostasis.
For over 30 years, Horiba Medical has developed a reputation for expertise and excellence in blood cell analysis. This scientific knowledge, innovation, leadership and cutting-edge technology has now been utilised to deliver the new and comprehensive range of Yumizen G systems and reagents for coagulation diagnostics.
The Yumizen G systems are user friendly, efficient and secure. In combination with specifically developed and optimised ready-to-use reagents, Yumizen G provides a high-quality and cost-effective range of haemostasis solutions that will fit any laboratory size or requirement. The range includes the Yumizen G100 INR, Yumizen G200 and Yumizen G400 compact semi-automatic devices, Yumizen G800 automatic benchtop coagulation analyser, and Yumizen G1550 fully-automated, high-capacity analyser.
Commenting on the launch of this comprehensive new coagulation analysis offering, Horiba Medical director Cleve Wright said, "By leveraging our extensive expertise in the haematology field, we have significantly broadened our scope in blood disease analysis into a complementary discipline. This means that Horiba Medical is now able to offer customers a dedicated and specific blood analysis solution to suit any laboratory. We will be building on this new haemostasis product range in the very near future."
Other News