Innovation in digital pathology at Leeds a step to faster, better cancer diagnosis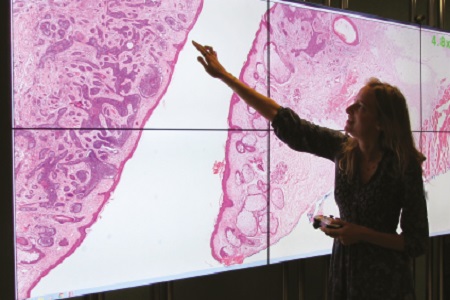 Leeds Teaching Hospitals NHS Trust and the University of Leeds have announced a critical milestone in going digital, by scanning every glass slide they produce. The milestone represents a major step towards achieving faster and accurate diagnosis for cancer patients in the future. The pathology department, located in St James' Hospital in Leeds, is one of the largest in the UK, processing over 1000 pathology slides a day, and is now digitally scanning every slide thanks to its partnership with Leica Biosystems.
The traditional approach to histopathology diagnosis has been to view glass slides under the microscope. This method has presented challenges including transportion of slides, storage, and sharing of information with other pathologists for a second opinion. Digital pathology overcomes these challenges and allows this process to be carried out electronically.
Digital pathology is also a key area for the use of artificial intelligence (AI) to speed up or improve diagnosis. In the future, computer programmes could help to detect small areas of cancer that have spread to lymph nodes, better quantify and measure tumours, and rapidly direct pathologists to areas of abnormality in the tissue sample.
To date, 200,000 slides from patients at Leeds Hospitals have been digitally scanned using technology developed by Leica Biosystems. In addition, there is an archive of 386,000 anonymised digital slides housed by the University of Leeds for research and teaching. This slide library represents the largest collection of digital slides in the UK.
"We pride ourselves on the rigorous, evidence-based approach taken to digitising our laboratory, to ensure that our pathologists can use digital slides to make diagnoses efficiently and safely," says Dr Bethany Williams (pictured; Digital Pathology Fellow, Leeds Teaching Hospitals NHS Trust).
Pathology departments are under growing pressure with pathology requests increasing by nearly 5% every year and a declining workforce with a third of pathologists nationally reaching retirement age in the next five years, according to a recent report by The Royal College of Pathologists.
Other News