New track-based haematology platform achieves quality accreditation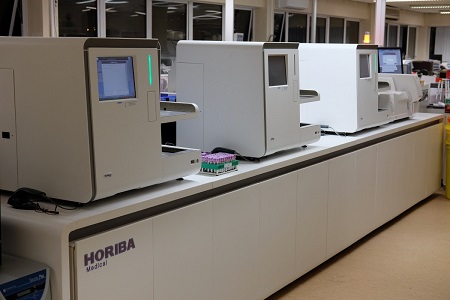 Horiba UK Medical has announced the first global installation of its new HELO high-throughput fully automated haematology platform in Torbay Hospital, where the laboratory has achieved UKAS ISO 15189 accreditation. Additionally, the ease of use, fast processing and operational efficiency delivered by the company's new track-based haematology system has enabled routine haematology work to be smoothed and cut by an hour at Torbay and South Devon NHS Foundation Trust (TSDFT).
This successful HELO installation follows a response to tender in 2017 by Horiba Medical for a new fully automated haematology platform to replace its 12-year-old Pentra DX 120 haematology analysers. Alongside the requirement for assistance in verification of the new system via Horiba's Quality Accreditation Programme (QAP), other 'must haves' within the tender were robust white cell linearity, optical platelet counts and nucleated red blood cell counts.
"We have always valued our excellent working relationship with Horiba Medical and are extremely impressed by their hands-on service response and support," explained David Strutt (Haematology Technical Manager, Torbay Hospital). "This level of support shone through during the installation and the demands of the validation process for our laboratory to continue to meet ISO 15189 quality standards. Also, as the world's first installation of HELO, we were prepared for the possibility of some teething issues. However, these were minimal and Horiba could not have done more to sort them out effectively and rapidly."
The new HELO also met Torbay's requirements for a tracked haematology platform with flexible layouts to fit within a reconfigured blood sciences laboratory alongside chemistry analysers to facilitate efficient working. Key to enabling improved workflows is HELO's novel approach to track – samples can be loaded at any analyser and the system then disperses them, depending on tests required and individual analyser capacities.
Other News