Versatility of LIMS in a Veterinary Laboratory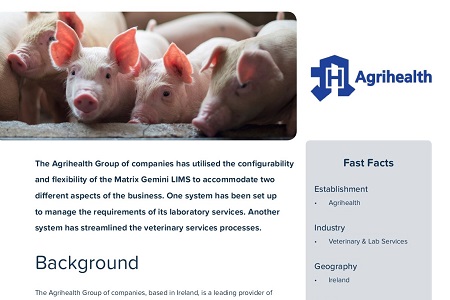 The Agrihealth Group of companies has utilised the Matrix Gemini Laboratory Information Management System (LIMS) from Autsocribe Informatics to accommodate two different aspects of its business. A new case study shows how Matrix Gemini is managing the requirements of Agrihealth's laboratory services and has also streamlined the company's veterinary services processes.
The Agrihealth Group of companies is a leading provider of services that directly support the agricultural and food production industries. Its dedicated team of veterinary surgeons specialise in areas such as disease control and monitoring programmes, quality assurance, training and education, and audit. It also operates a purpose-built category 2 laboratory facility which offers a microbiological testing service to the industry.
The inherent configurability of Matrix Gemini allowed it to be used to create separate management systems for Agrihealth's laboratory and veterinary services. The laboratory system is handling all poultry-related samples tested for Salmonella, Escherichia coli and Campylobacter. The versatile reporting system allows the generation of various reports, which can be emailed to clients if desired. The laboratory has handled around 3000 samples in the six months since the system went live.
As test cycles can take days, depending on the incubation requirements for specific tests, a web portal system is currently being implemented. This will allow individual farmers to log directly into the system to monitor the status of a set of samples and see the results obtained to date, instead of having to wait for a final report.
The veterinary system has been set up to handle five processes: i) animal remedy prescriptions via a veterinary surgeon; ii) veterinary written directives for adding medicine to animal feed; iii) post-mortem reporting (for poultry); iv) external laboratory testing requests for tests that cannot be carried out in-house; and v) serology testing. Veterinary surgeons can request any of these processes and they are all authorised through Matrix.
www.autoscribeinformatics.com/resources/case-studies
Other News