Simplifying access to data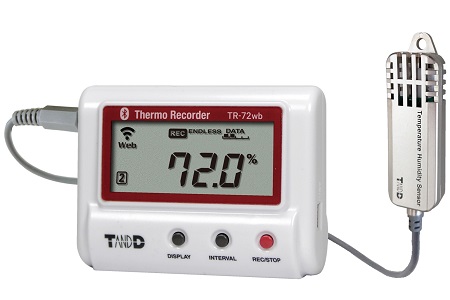 With the latest models in its TR-7wb series, T&D Corporation has extended the original TR-7wf series with a Bluetooth feature to enhance connectivity between data loggers and mobile devices such as smartphones and tablets. The ThermoApp has also been redesigned with a new look and easier-to-use interface. T&D Thermo enables the use of mobile devices for viewing recorded data, as well as direct communication between the connected devices TR-71wb, TR-72wb and TR-75wb.
The new TR-7wb model is ideal for temperature and humidity monitoring, and is designed for those who require a broad range of measurement tasks. Recorded data can automatically be uploaded to T&D's free-of-charge WebStorage Service, accessible anywhere and anytime by computer, smartphone or tablet via mobile Thermo app connection.
The new design and easier-to-use interface plus the option to view data from all networked TR-7wb/nw loggers makes handling with mobile devices easy and effective. The simplicity of these applications allows uncomplicated and cost-effective protection of various goods and processes. They are ideally suited to the supervision of climatic conditions associated with storage of sensitive products and the safeguarding of laboratories, server rooms or refrigerators.
Other News