The future of training in pathology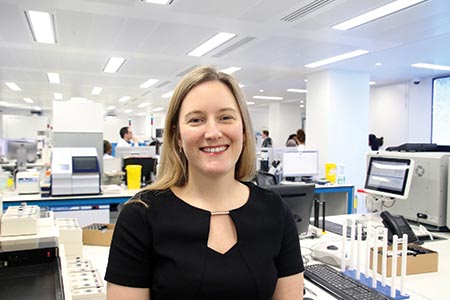 As Head of Scientific Training at Health Services Laboratories, Wendy Leversuch consider training to be crucial to pathology. Training is often the solution to so many challenges within the laboratory; it fits into recruitment and retention strategies, career progression, CPD, and at its core it ensures our workforce is highly skilled and able to deliver a high-quality service.
However, despite the widely acknowledged importance of this (something I've never heard anyone dispute) it is often neglected when under pressure either from a time or financial point of view. Making best use of often limited resources is always a popular topic, but what is the future? Are we continually squeezing an established approach into a smaller and smaller resource framework?
At a recent conference for learning technology, I was impressed by the sheer scale of what is available and the developments happening in this field illustrated by lots of NHS-specific case studies. I find it really encouraging that healthcare has already opened horizons to what were previously considered non-traditional formats of learning but are now well established in many sectors. One case study was an NHS trust that had moved away from the standard ESR system (something NHS readers will be familiar with) as this did not have the functionality they needed to support the direction in which they wanted to move.
Artificial Intelligence (AI) is starting to make some headway in healthcare. It's fascinating to see potential uses and how it could improve patient care, but I'm particularly interested in seeing how it could impact on the education and training of staff in pathology. We all have experience of 24/7 online help AI chat bots that often result in a frustrating circle of standard responses which don't solve your issue. However, AI can be useful in guiding training and in the creation of dynamic assessments. One analogy often used is Netflix-style learning, where the learning is guided by suggestions based on their current learning or stated interests. The next stage of this is not only to suggest similar learning but also the next level to support the learning in their progression in training.
We may think we are delivering excellent training, but we need to demonstrate the efficacy of that training and this is where assessment comes in. Assessment is often in a question-and-answer format, which is a time-consuming process in itself, both through the creation of the assessment and in the marking of the work. One type of AI I have seen is in the form of dynamic assessment. It creates an assessment from the course content in real time as the learner progresses through the assessment. Questions are based on previous answers, so if there is an area that the learner has not fully grasped, it will suggest the relevant part of a course for a second look and follow up with more-detailed questions in that area.
Engagement is something everyone struggles with, particularly around mandatory training. Gamification is the application of game-related principals particularly relating to user experience and engagement. Imagine how bringing together all of these concepts and technology could be used in a pathology laboratory. A game against AI to demonstrate competence perhaps?
I am also a module tutor for the IBMS Certificate in Expert Practice in Training qualification. Recent participants have demonstrated a particular interest in apprenticeships and how they can support staff development in pathology. The traditional understanding of an apprenticeship is that it is only for vocational professions, and as biomedical science is a degree-level entry profession, this approach is not appropriate. This, however, is not the case.
The apprentice format is an opportunity to complete a fully funded work-based qualification. While universities are reviewing their IBMS-accredited degrees to meet the apprenticeship standards and some are now up and running, this should not be the only apprenticeship route considered as suitable for pathology.
Apprenticeships are currently approved from a Level 2 up to a Level 7 qualification (Masters level) in a range of subjects so could be used to support existing staff in their professional development. We are currently reviewing apprenticeships in biomedical science, IT, team leadership, business administration and laboratory technician subjects.
While the apprenticeship scheme may not have taken off as expected, there is plenty of opportunity for the pathology sector to make use of it to support the training and development of its staff.
Other News