Microbial technology: commercial support at the BSMT conference
Download PDF version of article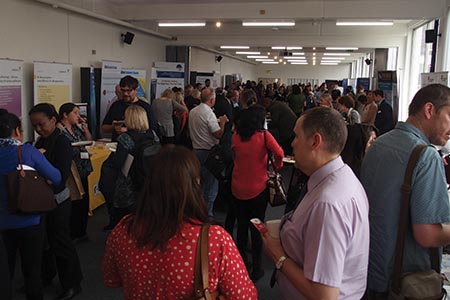 The Annual Scientific Conference of the British Society for Microbial Technology, held recently in London, offered delegates a high-class programme and access to some of the leading commercial suppliers supporting microbiology.
British Society for Microbial Technology (BSMT) conferences are aimed at senior biomedical and clinical scientists, other scientists, medical microbiologists and other healthcare professionals. They are particularly relevant for bench microbiologists to provide up-to-date information about organisms and techniques especially with regard to new molecular technologies.
Recently, the 34th BSMT Annual Scientific Conference was held at the RAF Museum in Hendon, north London. The focus of this meeting was Respiratory Microbiology – A Day of Inspiration, which attracted some 140 delegates, was supported by 20 commercial companies, and offered a programme delivered by recognised experts.
Expert inspiration
Those presenting at this one-day meeting included Dr Samir Agrawal (Queen Mary University of London) – Invasive fungal infections and the need for improved diagnostic testing, Professor Chris van der Gast (Manchester Metropolitan University) – Cystic fibrosis microbiome, Dr Katherina Kranzer (London School of Hygiene and Tropical Medicine) – Non-tuberculous mycobacterial infections, Dr Riccardo Alagna (Emerging Bacterial Pathogens Unit, WHO Collaborating Centre and TB Supranational Reference Laboratory, Milan) – New diagnostics for MDR/XDR-TB, Dr Kate Templeton (Consultant Clinical Scientist and Honorary Lecturer in Medical Microbiology, Edinburgh) – Respiratory tract infections: diagnostic tests which make a difference, and Professor Mervyn Singer (Professor of Intensive Care Medicine at University College London) – Severe respiratory infections in the ICU.
Commercial support
Organised scientific meetings ranging from those held over a lunchtime in a postgraduate medical centre to extensive events such the IBMS Congress rely heavily on the support of colleagues from the commercial sector. In fact, in the absence of this vital synergistic relationship the staging of such events would be impossible.
One example of this vital relationship in action could be experienced at the recent BSMT Annual Scientific Conference when 20 of the leading commercial companies in microbiology were on hand to interact with delegates and display a range of their products. From A (Alpha Laboratories) to S (Sysmex UK), there was much on show to whet the appetite of those looking to gain more information on currently available technology, and to learn about what is in the diagnostics pipeline. The following provides a brief taste of some of the commercial highlights.
Carbapenemase assays
BioConnections has introduced the world's first multiplex lateral-flow assay for the identification of carbapenemases. RESIST-3 OKN identifies OXA-48-like, KPC and NDM carbapenemases, which account for 95% of European carbapenemases isolated. This advanced multiplex lateral-flow test does not require equipment, can be used directly from culture plates of blood culture bottles, and carbapenemases can be confirmed in 15 minutes with 100% confidence.
Infectious disease screening
Transforming molecular diagnostics is the aim of Genetic Signatures, The company introduced 3base, which is compatible with non-molecular laboratories and uses a universal extraction process regardless of sample type. It offers a standardised workflow solution both for high- and throughput laboratories, and currently covers over 100 pathogen targets across enteric, respiratory, antimicrobial resistance, sexual health, tropical diseases and meningitis.
Microbiology informatics
The Synapsis Microbiology Informatics Solution from Becton Dickinson (BD) empowers laboratory staff to impact turnaround times, expedite decision-making, improve productivity, and simplify compliance. It is a transformational informatics platform that provides secure connectivity, integrated workflows and on-demand actionable insights, all of which are accessible anytime and from anywhere.
Mycology
Invasive fungal infections are a diagnostic and therapeutic challenge in patients with restricted immunity. The Aspergillus Galactomannan lateral-flow assay, available from Alpha Laboratories, is a 30-minute test that offers high sensitivity and specificity using a simplified test procedure. It is applicable to serum and brochoalveolar lavage (BAL) specimens, and eliminates batch testing.
Nucleic acids collection
Nucleic acids (genomic DNA, RNA and complementary DNA [cDNA]) are being used increasingly in research and clinical diagnosis. The Culture Collections team at Public Health England (PHE) offers a wide range of nucleic acid products and services to support researchers and the biomedical community. These include nucleic acids from human and animal cell lines, bacteria, viruses and fungi. Also on offer are several bespoke extraction services.
Urine antigen testing
High-performance urine antigen testing for Legionella pneumophila sg1 is now available using TRU Legionella, a test developed by Meridian Bioscience and available in the UK from Launch Diagnostics. The three-step procedure provides a simple, interpretive result in 20 minutes, ensuring optimal patient management and appropriate antibiotic therapy.
Antibiotic susceptibility testing
Preparing standardised inocula for antibiotic susceptibility testing is now facilitated by the Inoclic system, available from Pro-Lab Diagnostics. Inoclic is manufactured using novel technology, and results conform to European Committee on Antimicrobial susceptibility Testing (EUCAST) requirements and avoid the need for double dilutions or adjustments. The results of a UK ring trial of Iniclic may be found in this issue of Pathology in Practice.
Detection and isolation of mycobacteria
E&O Laboratories offers a comprehensive range of media for the detection and isolation of mycobacterial species. The product range includes decontamination reagents for the processing of clinical specimens prior to culture, Lowenstein Jensen medium products for the isolation and differentiation mycobacteria, and Middlebrook agars for environmental/water sample analysis.
Molecular medium
Sigma Molecular Medium, available from Medical Wire and Equipment (MWE), is a powerful reagent-based medium that kills pathogens while retaining DNA and RNA intact, ready for analysis. The medium disturbs and lyses lipid membranes, and destroys proteins including DNase and RNase. It is a highly effective single-step collection, storage and transport system for specimens where there is a high risk of the presence of dangerous pathogens.
Other News