Haemoglobin analyser supports anaemia study in resource-limited West Africa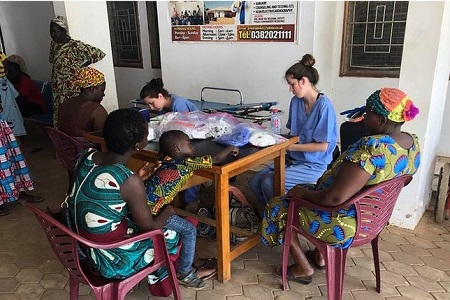 EKF Diagnostics has announced details of the highly successful use of its US Food and Drug Administration (FDA)-cleared DiaSpect Tm (Consult Hb in the USA) point-of-care haemoglobin analyser to study iron-deficient anaemia in a remote region of Ghana, West Africa.
The Eleanor Mann School of Nursing at the University of Arkansas, USA, took 15 nursing students on a Study Abroad Programme in Bolgatanga, Ghana. in summer 2018. Working at small village clinics, they established that anaemia is very common among women of childbearing age, sometimes leading to blood transfusions, but more commonly death. Therefore, in addition to measuring haemoglobin (Hb) using EKF's fully portable handheld analyser and confirming the prevalence of anaemia, the team also provided vital nutritional education. Given the success of this programme, a further 15-strong team from the university will return in summer 2019, extending their anaemia studies to include the elderly who are at high risk of death from anaemia.
Using the DiaSpect Tm for the study, a total of 176 Hb tests were undertaken with a 45% rate of tests below the normal values; these results supported the pre-study desk research and hypothesis that iron-rich and high-protein foods need to be increased in the women's diets. The educational programme focused on which local foods were iron-rich or high-protein and why it is important to include them in the diets of new mothers, pregnant women and those of child-bearing age.
www.ekfdiagnostics.com/diaspect.html
Other News