Consolidating and automating faecal testing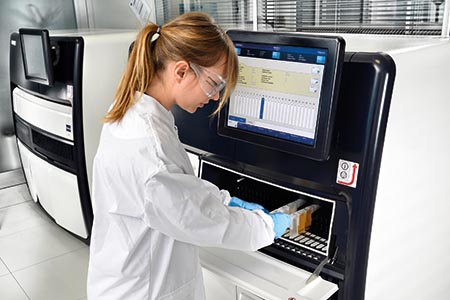 Faecal testing plays an important role not only in the diagnosis of a wide range of clinical conditions, ranging from mild gastroenteritis to inflammatory bowel disease, but also a key role in potentially avoiding unnecessary invasive and costly diagnostic procedures. Furthermore, effective containment of infectious pathogens often requires rapid result turnaround in order to avoid costly ward outbreaks and closures.
The ability to consolidate and automate faecal testing onto a multidisciplinary immunoassay analyser provides the laboratory with a huge opportunity to not only reduce platforms (and associated additional costs/resources) but also reduce sample handling/extraction times, improve turnaround time and standardise faecal testing producing reliable, accurate patient results.
To date, the DiaSorin LIAISON XL analyser is present in 23 of the proposed 29 NHSI Networks and in 18 of the proposed hub locations. With the largest immunoassay menu available, including nine stool tests, the random-access LIAISON XL is ideally placed to consolidate and automate faecal testing with highly sensitive chemiluminescent immunoassay (CLIA), avoiding delays associated with batch analysis. Assay times of typically only 35 minutes enhance the ability to deliver quality results in a timely manner.
The inevitable stool sample extraction is fast, clean and efficient, and totally sealed within the DiaSorin extraction devices for enteric pathogens and inflammatory markers. For faecal inflammatory markers, the devices also offer highly accurate quantitation of stool samples. Tests frequently requested together (eg calprotectin and elastase, Clostridium difficile GDH and toxin A/B) only require a single extraction, both tests being performed from the same extract. Barcode-compatible devices eliminate the risk of transcription errors and allow full traceability of patient results. Potential carryover is avoided via the use of single-use, disposable consumables.
Other News