Molecular diagnostics solutions to detect antibiotic resistances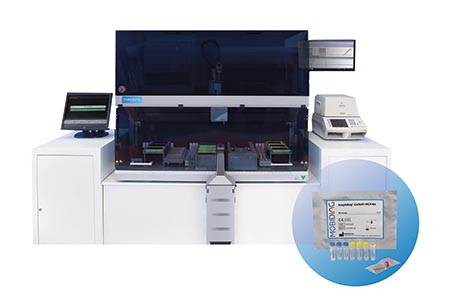 Since the discovery of the first antibiotic more than 70 years ago, antimicrobial drugs have treated bacterial infections successfully. However, antibiotics have been widely prescribed as a first-line treatment of infections, without always fully understanding and identifying their underlying cause. Overuse of antibiotics has resulted in multidrug-resistant organisms, making antibiotics less and less effective. A simple case of routine bacterial infection can then lead to a medical emergency, in the absence of effective drugs for treatment.
The most commonly used antibiotics are beta-lactams and include a class of highly effective antibacterials called carbapenems. These have always been considered the most effective against Gram-positive and -negative bacteria. However, over the past decade, bacteria less susceptible to carbapenems have been reported worldwide. As a result, carbapenemase-producing Enterobacteriaceae (CFEs) are considered 'critical' targets in the World Health Organization (WHO) list of priority pathogens.
Mobidiag has been involved in the fight against antimicrobial resistance (AMR). Thanks to its two mix-and-match molecular platforms for rapid testing when time is critical, and cost-effective batch testing when it's not, Mobidiag offers a complete range of fast, reliable and cost-effective molecular diagnostics solutions for the detection of most common bacteria and markers of resistance (colistin or vancomycin), including CPE, which can render several antibiotics ineffective and can lead to serious infections, especially in health facilities.
Novodiag CarbaR+ is an innovative molecular diagnostic solution for rapid on-demand screening at patient admission directly from rectal swabs or pure culture. Combining multiplexed qPCR and microarray in one test, the complete panel includes the detection of more than 200 carbapenemase variants.
Amplidiag CarbaR+VRE and Amplidiag CarbaR+MCR offer cost-efficient batch testing of contact patients directly from stools, pure culture or rectal swabs. The complete panel includes the detection of more than 200 carbapenemase variants. The test contains all necessary reagents and can be used as standalone as well as with the company's proprietary automation platform Amplidiag Easy.
Other News