Supporting cancer research in Switzerland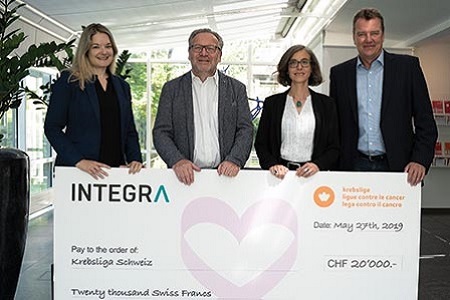 When INTEGRA Biosciences launched the PIPETGIRL in 2015, the company pledged to donate 10€ / US$15 from every sale to internationally renowned research institutes dedicated to finding a cure for breast cancer. This limited edition version of the PIPETBOY acu 2 pipetting controller is still available today, and the company's latest donation of 20,000 CHF has been awarded to the Swiss Cancer League (Krebsliga Schweiz).
The Swiss Cancer League is using this money to help fund a project investigating the link between E3 ubiquitin ligases and breast carcinoma. The research, being conducted at ETH Zurich, aims to develop a comprehensive preclinical model of hGID E3 ubiquitin ligase function – which is highly over-expressed in up to 55% of aggressive breast, ovarian and prostate cancers – to help unravel its role in tumour progression and metastasis in breast cancer cells. This model will then be used to develop prognostic markers of cancer progression, and to screen for compounds that may form the basis of a future therapeutic intervention.
Other News