University supports company to bring new product to market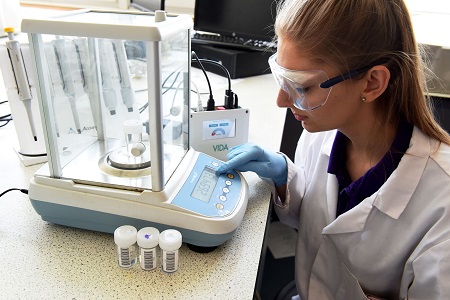 A laboratory instrument manufacturer is being helped to bring a new product to international markets thanks to the support of Teesside University. Martel Instruments, based in County Durham, is working with the university to trial a new smart device that connects and records data from instruments in a laboratory.
VIDA, developed by Martel, allows laboratory staff to track, record and store instrument and measurement data at the push of the button. It is also device agnostic, meaning that it can work with new and legacy equipment, reducing the need to upgrade kit in order to run a modern, connected laboratory.
Using VIDA, laboratories can operate more efficiently, without relying on paper records, and help maintain compliance standards. In order to help Martel market VIDA in the United States, where many of the company's clients are based, Teesside University is running pilot testing on the device to prove that it can operate in a commercial environment.
Funding for the pilot testing came from the GX project, led by NewcastleGateshead Initiative, which is a legacy project of the Great Exhibition of the North, and helps North-East SMEs and scale-ups harness their innovation potential and capacity.
An academic team of Professor Paul Van Schaik, an expert in the psychology of human-computer interaction, and Dr Garry Weeks and Paul Douglas from the School of Health & Life Sciences, have been subjecting the device to rigorous testing. They identified the equipment it needed to work with before checking its functionality and its data-gathering ability with a series of quantitative and qualitative tests. They have also engaged some of the university's industrial partners through the National Horizons Centre, the bioscience centre of excellence based in Darlington.
Other News