Protocols to monitor emicizumab with greater confidence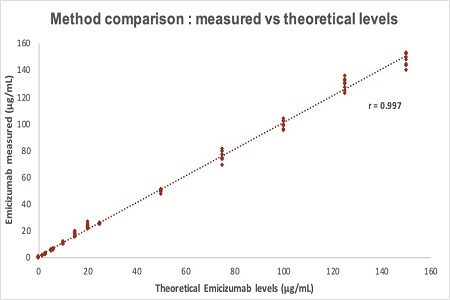 Diagnostica Stago has developed an automated test set-up to enable monitoring of the new, highly-active haemophilia drug emicizumab. The new protocol also eliminates any carry-over concerns.
Emicizumab offers a different way to improve outcomes for the most severely affected haemophilia patients, those haemophilia A patients with anti-FVIII antibodies (inhibitors). For these patients, the gold-standard approach of replacing factor VIII can be ineffective.
Emicizumab mimics the effect of factor VIII but is not neutralised by clotting factor antibodies, so works even in the presence of inhibitors. However, it does require a different approach to monitoring its concentrations. Stago's product manager Alex Stephenson-Brown explained: "We've developed new protocols that a laboratory can easily run on our existing Stago systems so they can report the effectiveness of treatment with greater confidence.
"This is a powerful drug and our new protocol also removes any potential concern that even the slightest carry-over might affect the result."
Only a few NHS laboratories have extensive experience in testing samples containing emicizumab and therefore need to be aware of the different assays available, how they might interact with this new drug, and steps that Stago have taken to ensure it delivers accurate emicizumab monitoring.
One such laboratory is the haemostasis centre of excellence at the Leicester Royal Infirmary, part of the University Hospitals of Leicester NHS Trust.
Barbara Hopkins, the laboratory's haemostasis team leader, explained: "We are treating a wide range of haemophilia patients and emicizumab does present new opportunities to improve the quality of life of those most seriously affected. But we need to be able to measure and monitor concentrations of the drug in blood plasma – and that has proved a challenge.
"Even low levels of emicizumab have been found to falsely raise FVIII levels, making conventional assays of limited value. So that we can provide our clinicians with accurate information, new diagnostic tools were urgently needed.
"This is exactly what Stago has done – adapting its existing FVIII assay by adding new calibrators suitable specifically for measuring emicizumab concentration. It's a very straightforward and timely fix, making it easy to use the adapted assay on our existing analysers, enabling us to use our APTT reagents and FVIII-deficient plasma with confidence."
Emicizumab is a bi-specific humanised IgG4 antibody with binding sites for FIXa and FX. It brings together FIXa and FX in a way that causes the activation of FX to FXa so that it can substitute for FVIIIa.
Other News
Featured Supplier

Sysmex UK Ltd are one of the UK's leading diagnostic suppliers of automated haematology, coagulation and urinalysis analysers, reagents and information systems for laboratories and healthcare facilities. 
With a reputation for high quality products, unmatched service and unrivalled reliability, Sysmex has become a world leader in...