Initiative to raise awareness of HPV diseases in men welcomed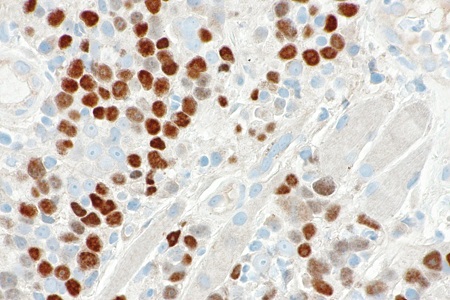 The Royal Society for Public Health (RSPH) has welcomed the launch of Jabs for the Boys, an initiative that aims to increase awareness of diseases in men caused by the human papillomavirus (HPV). This virus causes thousands of cases of cancer in men every year in the UK, such as p16-positive, HPV-associated squamous cell carcinoma (pictured), but there is very little public awareness of the virus, especially in relation to men.
The initiative will look to boost public knowledge and provide essential advice to boys, parents of boys and adult men about HPV-related diseases and HPV vaccination. Increasing awareness of HPV and the HPV vaccine is more crucial than ever as the Joint Committee on Vaccination and Immunisation (JCVI) continues to reconsider its original decision not to extend the national HPV vaccination programme to adolescent boys, against the advice of RSPH and the HPV Action coalition.
Girls have been vaccinated against HPV for free as part of a national programme since 2008, but RSPH and HPV Action strongly believe that universal vaccination for boys and girls is the only way to achieve complete and equitable protection. Eleven countries already have such programmes.
Other News